Training & Recruitment
Our clients rely on us to provide them with carers they can trust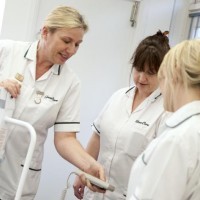 We consider the training and recruitment of carers as being extremely important. Our clients rely on us to provide them with carers they can trust so that they can relax in the knowledge that they are in safe hands.
All our carers are selected extremely carefully, interviewed, their references and working records checked, we also ensure Disclosure and Barring Service checks are obtained. The first six months of employment are a probationary period, in order to assess the suitability of the carer.
We consider our carers to be special people, who are chosen for their adaptability, integrity, reliability, compassion, flexibility and dedication with the common sense and skills required to provide high quality care for our clients.
Prior to commencing working with us, all carers undergo a five day induction training programme to meet and exceed the requirements of the governments Skills for Care, Care Certificate.
The induction process includes each new carer being allocated a Mentor who is a lead carer in the community.  They work alongside their Mentor until they are competent to work unsupervised.   The Mentor is someone within the team whom they can talk to for advice and support.
For further information and advice on Home Care.