Children & Young Adults
Trewcare provide specially selected and trained carers to care for children and young adults with disabilities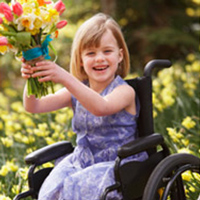 We work with parents and main carers to provide the care they require to assist them in caring for their children / young adults. Whilst a large percentage of our service for children and young adults is provided through the Social Services department, we also provide care to those who wish to purchase our services directly.
Each individual child / young adult and their family / main carer have their own individual needs. We endeavour to meet these needs by matching the carer to the individual. This enables a carer(s) to work together with the family / main carer to establish a trusting, caring relationship.
We recognise the pressures on families / main carers when caring for their child / young adult. Our services are designed to be flexible and are tailored to meet the needs of each individual and may be provided from as little as half an hour at a time.
All our carers have a Disclosure and Barring Service check and Protection of Children Act List check. Carers receive training in line with government regulations covering Child Protection, and Working Together to Safeguard Children.
Types Of Care
Working together with you, your TrewCare adviser will arrange the care your child/young adult requires. This may include any of the following:-
Assistance with –
Washing / dressing
Bathing / showering
Getting up / returning to bed
Toileting
Managing incontinence
Care of skin / pressure areas
Oral hygiene
Use of hoists and transfer aids
Medication
Oxygen
Feeding
Catheter and Colostomy care
Eye and ear drops
Prompt daily tasks where appropriate
Supervision
Accompanying child/young adult on outings / appointments
We also provide assistance with domestic tasks which may include:-
Laundry
Meal preparation
Shopping
Cleaning
Help is only a phone call away, we will endeavour to provide you with the assistance you require, you only have to ask.
For further information and advice on Home Care.